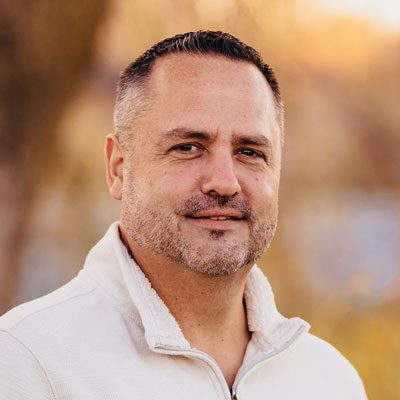 Chiropractor
C. Bryan Strother D.C.
Corrective Chiropractic Clinic has been located in New Buffalo, Michigan since June of 1999. Dr. C. Bryan Strother graduated from Logan College of Chiropractic in 1997, earning the Clinical Excellence Award for his graduating class. He has since earned a Fellowship in Chiropractic Pediatrics and pregnancy care so he can take care of the entire family. Over 20 years in practice has allowed a complete system of NeuroStructural correction to be established- this level of experience gives you a confident Doctor of Chiropractic that understands your unique situation.
Dr. Strother's practice has always been focused on the the long-term health of his patients. Dr. Strother has found that when crisis strikes and a patient is suffering with pain, the focus understandably becomes a short-term goal of pain relief. The reality for the majority of patients is that their chronic issues (known/unknown) have brought them to this point of crisis. Patients presenting with trauma need to see past the short-term symptom relief to make sure they get a long-term correction. This view has helped Dr. Strother develop a system of analysis and treatment to assist patients in achieving that state of improvement.
Our lives should be focused on our families, friends, and being an actively engaged person; being a patient shouldn't consume our lives. Part of Dr. Strother's system is to find NeuroStructural shifts that are causing blocks to healing. Once this is achieved, he and his staff work to make sure treatment strategies are efficient and effective.
Dr. Strother's system is not stale and static; he is continually looking for the latest scientific tools to help patients in a variety of health challenges.
The Corrective Chiropractic Clinic team has a mission to make each visit enjoyable and efficient. As much as we love to see you and hope you love seeing us, we know you want to spend the least amount of time in the office while gaining the most benefit. Our team will work closely with you on setting an appointment schedule that will meet your individual needs. We would love to be your local chiropractor and serve you and your family!
Office Manager
Rose Strother
Massage Department Supervisor
Becca
Becca began her career with Corrective Chiropractic Clinic in July of 2010 as a licensed and nationally certified Massage Therapist. During her time with us she has served our patients as a Front Office Administrator handling insurance, scheduling, and financial needs, as well as the Clinical Assistant aiding Dr. Strother with direct patient care.
Becca was recently promoted to Massage Department Supervisor and currently is teaching an extensive Therapy Assistant apprenticeship program. She trains on anatomy, terminology, biomechanics, relieving tight muscles, reducing stress, and increasing the overall health of patients, while also supporting our employees in their own individual work processes.
Becca completed her schooling certification and licensure in clinical massage therapy at Fortis College in 2007, receiving National Certification Board for Therapeutic Massage & Bodywork (NCBTMB) status. She is a current and certified member of American Massage Therapy Association (AMTA), and is licenced to work in both the state of Michigan and Indiana.
Licensed Massage Therapist
Daisy
Daisy has been with Corrective Chiropractic Clinic since February 2015 as a Licensed Massage Therapist. She believes in the body's ability to heal itself and utilizes her expertise to assist in this process. Daisy is a life long resident of LaPorte, IN. She graduated in 1999 from New Prairie HS. After her nephew was diagnosed with Juvenile Rheumatoid Arthritis she saw the pain relief he received from massage and decided to go to college and change careers.
She graduated in 2012 from Brown Mackie with honors and an Associate of Science Degree in Health & Therapeutic Massage. She has obtained licensure in Indiana and Michigan and is a member of Associated Bodywork & Massage Professionals (ABMP).
Daisy's unique style integrates training in several modalities including: Swedish, Deep Tissue and Trigger Point style massage, myofascial and connective tissue release, and pre-natal massage. After 5 years in practice she is still passionate about massage and all that it can offer. She loves to work with people who suffer from fibromyalgia, migraines, TMJ, chronic (lower back) pain, and sciatica.
Chase has been around the office since he was born! He took an official role as an administrative assistant in May 2018. Chase currently attends New Buffalo High School where he is working in the Advanced Placement Program and earning his Bi-Literacy Certification. Chase is the tennis team captain, he also plays on the golf team and is involved in Student Senate and a member of the SADD (Students Against Destructive Decisions) program.Chase is enrolled at Rose-Hulman Institute of Technology for the fall of 2021 where he will be working towards Bachelors in Engineering.
Clinical Assistant
Catherine
Catherine joined our team in May, 2019. Living in LaPorte County most of her life, she is excited to continue her passion to help the community while providing stellar care to our patients. When not helping in the office, Catherine can be seen around town volunteering with her son's school, being an active member of a local Lions International club and simply enjoying her family.
Front Office Administrator
Sasha
Sasha joined our team as the Front Office Administrator in July of 2020. A Michigan City High School alumni, she continued her education in accounting and office administration at South Louisiana Community College. She moved back to the area in late 2003, and has been serving her local community since.
She and her husband raise their three wonderful boys in Michigan City. Sasha volunteers her spare time to the MCHS Marching Band and enjoys her hobbies of singing and crafts. Sasha is at the desk to help our patients with their scheduling, account management and overseeing all of our membership programs. Let her know how she can help you!
Clinical Assistant
Mary Watterson
Mary joined our team in March, 2021. You will see her in the office assisting Dr. Strother with clinical documentation. She is looking forward to meeting with you and helping serve our patients on your health journey. When she is not in the office, Mary can be found in a theatre onstage or at home curled up with a good book.
Therapy Assistant
Laurie Zdenek
Laurie joined our team as a Therapy Assistant in the fall of 2020 with a background in sports management and coaching developing athletes. Having worked in the sports and fitness field for over 10 years, Laurie realized her true passion is in helping others to also lead a healthy, pain-free lifestyle. Originally from the Chicago area, Laurie relocated to Michigan in 2017 and is very excited to help serve her community! You will find her giving chair massages and assisting patients with therapies and rehabilitation. She is eager to get to know you.
OFFICE HOURS
---
Monday
9:00am - 12:00pm
3:00pm - 6:00pm
---
Tuesday
3:00pm - 6:00pm
---
Wednesday
9:00am - 12:00pm
3:00pm - 6:00pm
---
Thursday
9:00am - 12:00pm
3:00pm - 6:00pm
---
Friday
Closed
---
Saturday
9:00am - 12:00pm